August is said to be the worst time to visit Paris. Many businesses and restaurants are closed as Parisiens take their summer vacation, and the city is clogged with tourists. I prefer not to deal with crowds of people, so that made visiting in August unattractive. But August is when we could go, so we did.
Upon arriving, we have found our neighborhood to be mostly open for business. We are staying in Belleville which has a large immigrant population. Stores are open and only a few restaurants are closed. Few tourists visit the area (there's not much to see nearby except Parc de Belleville, Parc des Buttes de Chaumont, and Père-Lachaise Cemetery) so pretty much everyone you see is a local.
After a week visiting sights that are a bit off the beaten track, we headed to Centre Pompidou on the first Sunday of the month (free day) and were shocked by the line stretching out the door and along the street. It was our first taste of the tourist-crazy August we were warned about.
From the top of Centre Pompideau I took a photo of the city.
When I looked closely at it, I was stunned to realize I could see the hordes of tourists climbing up the steps of Sacre Coeur in Montmarte!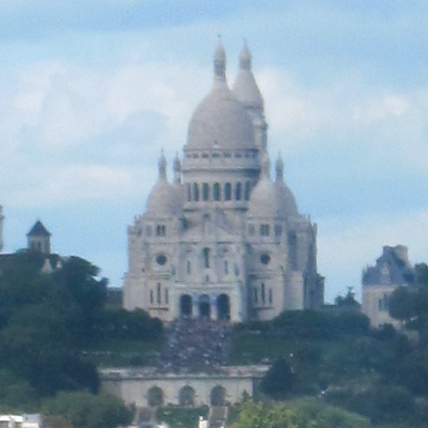 However, there are some benefits to visiting in August. Our friend who moved here remarked upon how few people there were on the Île de la Cité and how easily we were able to grab a prime picnicking spot on the Seine.
So: come to Paris in August if you must, but if you do, stay away from the usual attractions. Paris is the most visited city in the world. It's always crawling with tourists, and summer is the worst. But if you stick to less-visited spots, you can still have a great time.