Yesterday, I posted my list of books read in 2011. What follows are a few of my favorites.
The Emperor of all Maladies, Siddharta Mukherjee
This book was recommended on Hacker News after Steve Jobs's death. I was not eager to read a book about cancer because my dad died of it, but I knew I should learn more about it. The book is fascinating and horrifying, and ultimately, hopeful. Medicine is finally beginning to understand certain cancers. "Curing" cancer will probably never be possible by treating it, but rather preventing it and delaying it until old age, and we are also making strides there.
59 Seconds: Think a Little, Change a Lot, Richard Wiseman
I read a blog post by a guy who read 340 self-help books ("Because I am insane" was his reasoning; I can't say I disagree.). His conclusion was that 95% of all self-help books were crap, but he recommended 59 Seconds because it covered a wide range of topics, was written by a skeptic who quotes scientific literature instead of personal opinions, and was short and to the point.
I can't argue with someone who's read 340 self-help books, so I checked out 59 Seconds. Much of the research will be familiar to those who have done some reading about Positive Psychology, but Richard Wiseman does a great job of distilling it down into bite-sized chunks and providing actionable tips. Also, I loved his sense of humor – the book is hilarious.
Missile Gap, Charles Stross
Perhaps one of the most depressing novellas I've ever read. You can read it online at Subterranean Press
The Milagro Beanfield War, John Nichols
My dad gave me this book about 15 years ago. It was always one of those books that you have lying around to read "someday". This year, Jenny and I went on a vacation to New Mexico, so I finally got around to reading it. It is said that there is a right time in one's life to read certain books. This was a perfect time for me to read this book, and I loved it. My only regret was I will not be able to discuss it with my dad. He spent time in New Mexico, so I assume he wanted me to read it due to that connection, but I'll never know for sure.
Undaunted Courage: Meriwether Lewis, Thomas Jefferson, and the Opening of the American West, Stephen Ambrose
I got this a a Friends of the Library sale for, like, $1. In school, I learned about Lewis and Clark (I lived in North Dakota, where it's basically the state's only claim to fame, so "Lewis and Clark" is on everything), but reading about their arduous journey was eye-opening. It's truly an amazing story of preservernce, and you learn how unfortunate it is that Lewis and Clark's scientific contributions were ignored for so long, due to the delay in publishing their journals. I also enjoyed this book because of Thomas Jefferson, and his connection with the federalist/anti-federalist debates at the turn of the nineteenth century, which I read about in American Aurora in 2010.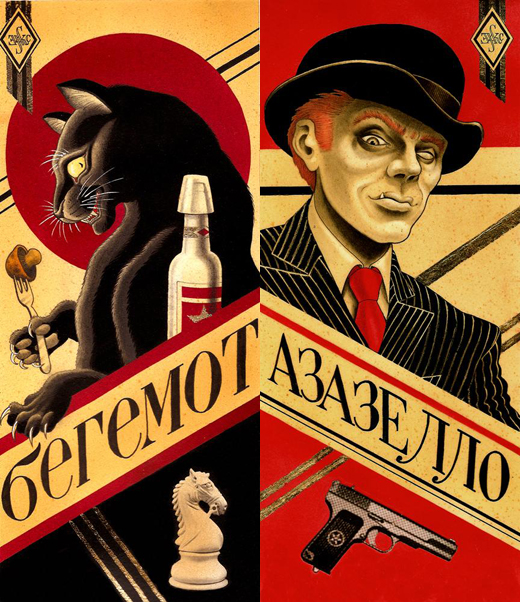 The Master and Margarita, Mikhail Bulgakov
"Manuscripts don't burn." I have trouble putting into words why I loved this novel so much. It has biting satire, humor, sadness, and amazing writing. I read it during our trip to Paris, which I thought was appropriate considering the long-standing cultural ties between France and Russia. I read Mirra Ginsburg's translation, which is apparently based on the censored version published in the 1960s, so I may have to revisit this novel with another translation.
(OK, I didn't read the version with the cover above – I just think it looks super cool.)
Plagues and Peoples, William H. McNeill
I love history books. They can roughly be divided into "great sweep of history" and "great men" (yes, usually men) categories. I tend to favor sweep of history books, and this is one of the most interesting of that type I have read. McNeill shows how diseases have shaped human history.