How Hipmunk saved me from an agonizing day of travel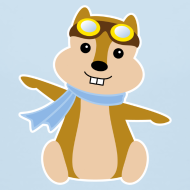 Last summer, my wife and I went to visit my mom before we moved to the Bay Area. Because of a simple mistake, our trip back promised to be agonizing. But Hipmunk helped get us back hours earlier.
The night before we flew home, everything was in order. Our taxi was arranged, our bags were packed, and our bording passes printed. We set our alarm and went to sleep.
The next morning, we calmly wheeled our bags into the airport, ready to go through the security checkpoint. There weren't many people around, but that didn't worry us. My mom lives in State College, Pennsylvania and the airport there is really small. But when the TSA agent checked our boarding passes, there was a problem: we'd arrived an hour late.
The reason for that is another story: my wife had entered the flight details in her phone in Central time, and when we arrived in the Eastern time zone, all her details were shifted up one hour. Check your event time zones, folks!
University Park Airport is not the kind of place where you can just hop on the next flight. It's serviced by only three airlines with a few flights per day. The gate agent was helpful but it took him a long time to find us a new option, and the new itinerary he put us on was terrible. Instead of flying from State College to Philadelphia to Minneapolis, we'd have to fly from State College to Philadelphia to Charlottle to Minneapolis with long lay overs at Philadelphia and Charlottle. We'd be traveling all day.
At this point, I'd like to say I whipped out my phone and showed him a better itinerary on Hipmunk and asked him to book us on that, but I didn't. We took our tickets and sat down to wait for the next flight. In the meanwhile, I looked on Hipmunk to see what it would suggest for a trip to Minneapolis.
I quickly found a flight from State College to Philadelphia to Minneapolis. I was too anxious to try to get the gate agent to re-book us, but resolved to see if we could get our flight changed in Philadelphia.
Once we arrived in Philadelphia, we went to the customer service desk and I showed the itinerary to one of the agents. He was skeptical about why we should be allowed to change flights (In retrospect, the gate agents were much friendlier in State College. I should have just talked to them.). Finally, we convinced him he could change our itinerary because we'd missed our flight and were being rebooked. He went away for a while, then came back out and booked us on the direct flight to Minneapolis. Victory!
Hipmunk saved us from an unnecessary flight to Charlotte and hours of waiting around in airports. The incredible thing about this is that the itinerary was there the entire time, but with the terrible green screen terminal interface, the gate agent working for the airline wasn't able to find it. Whereas, I, just a guy with a web browser on his phone was able to locate a superior alternative. Now that demonstrates the transformative power of user experience.