A Night in the Lonesome October
Tonight is Halloween. And the Moon is full. The stars are right to attempt an Opening. The Players will gather and contest the Opening. You best hope the Closers win.
That is the premise of Roger Zelazny's A Night in the Lonesome October, which is entirely told from the perspective of Snuff, a watchdog.
"I am a watchdog. My name is Snuff. I live with my master Jack outside London now."

--A Night in the Lonesome October, by Roger Zelazny

— Ghost is #WorkingFromHome (@ladychryse) October 1, 2020
Sometimes called the best Halloween novel you've never read, it's a cult classic, with some people making a tradition of reading it a chapter per day during October.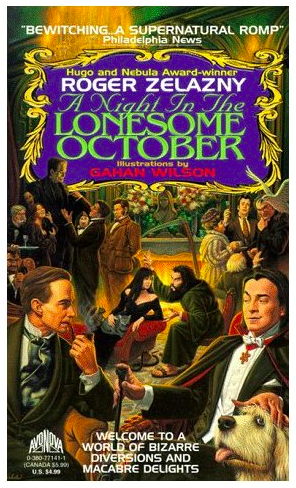 I stumbled across the book at a used book store in Fort Bragg, California. I'd read some of Zelazny's books (Lord of Light is one of my favorite science fiction books) but I'd never heard of this one. I'm glad I bought it, because this strange little book with its weird cartoons by Gahan Wilson wormed its way into my brain and never let go. Even though I didin't re-read it this year, I like to dip in and revisit favorite parts:
"I've come for my dog," [Jack] said. "That's him on your table."

He moved forward.

"No you don't laddie," said the beefy man. "This is a special job for a special client."

"I'll be taking him and leaving now."

The beefy man raised his scalpel and moved around the table.

"This can do amazing things to a man's face, pretty boy," he said.

The others picked up scalpels, also.

"I'd guess you've never met a man as really knows how to cut," the beefy one said, advancing now.

Dzzp!

It was into him, and that funny light came into his eyes, and his hand came out of his pocket and captured starlight traced the runes on the side of his blade.

"Well-met," Jack said then, though the teeth of his grin, and he continued to walk straight ahead.
I saw a tweet asking what movie you wish you could experience again for the first time. If you ask that question about a book, A Night in the Lonesome October would be right up there. Supposedly the result of a bet that Zelazny couldn't write a book with Jack the Ripper as the protagonist, it features a grab bag of classic horror tropes, Lovecraftian cosmic horror, familiar characters, and obscure references. Zelazny had a gift for suggestion that gives you just enough of a hint to put the picture together. A big part of the fun is figuring out not just who's an Opener and who's a Closer, but who the characters are. (After you read it, there are some pretty comprehensive references that are fun to check out.)